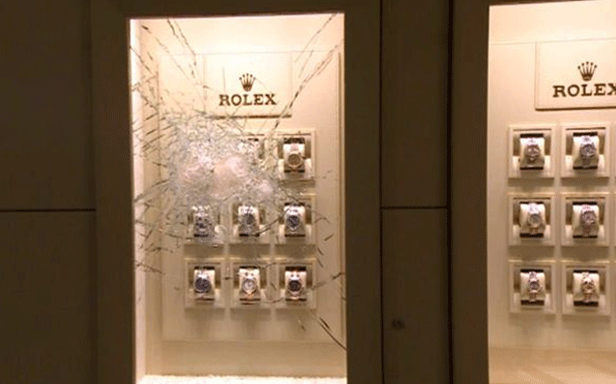 Balaclava-clad men who smashed their way into a jewellery store using sledgehammers were chased off by staff working at the cobblers next door.
Adam Spiers, director of Michael Spiers jewellers in Taunton said Timpson's staff had been "fantastic".
The men got away with five watches and drove off. But police chased the car, which eventually crashed about 70 miles away near junction 15 on the M4.
Five men have been arrested on suspicion of robbery.
Two other people were treated for minor injuries in the crash, which involved four vehicles, including a police car.
The jewellers was attacked on Wednesday morning by men who pulled up outside in a car and tried to smash their way in using sledgehammers.
Mr Spiers told BBC Points West: "Our neighbours next door, Timpsons, unbelievably all rushed in, frightened them all, they all ran off. They are fantastic, all credit to them."
Martin Hill, from Timpson, told the programme they had "just kind of heard the noise, rushed in, saw the women in distress. Just acted.. it was all good."
The car is thought to have headed up the M5 and was chased by police as it got on the M4 heading east, eventually crashing near junction 15 at around 1130 GMT.
The collision closed two lanes of the M4 near junction 15.