The 'Make £5.00 Grow' Scheme
The Virgin Money business has a scheme that helps students start a business with just £5. For five weeks the Year 5 pupils at St Anthony's catholic Primary School in Wythenshawe, close to our Manchester base, became entrepreneurs as they took up the challenge to develop their own business ventures. They were all determined to make as much money as they could from an initial loan of £5 each.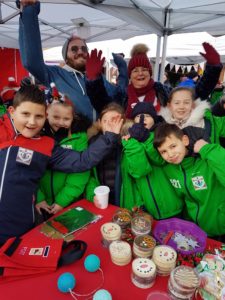 The children formed teams, came up with some brilliant group names, began to understand the importance of effective teamwork and spent the last half-term designing, marketing and selling products in a bid to make profit.
The children developed their skills in school selling cakes, sweets and drinks as well as hosting events such as a lunchtime disco and movie night. Their scheme culminated in a fantastic opportunity to run stalls on Wythenshawe Market.
Michelle and Jo were delighted to accompany the children at the market and delighted in watching them sell their hand-made Christmas cards and decorations.
The Mayor of Wythenshawe came along too, and everyone was particularly pleased to welcome a very special guest who popped in to say hello at what is an exceptionally busy time of year for him!
The Timpson Group's Director of Finance, Helen Oakley, who sits on the school's Governing Board, was delighted to see the children's enthusiasm for the task as well as her colleagues from the Finance Department taking such a close interest in their venture.