It was one of the weirdest and wackiest shows at the Edinburgh Fringe this August, delighting and entertaining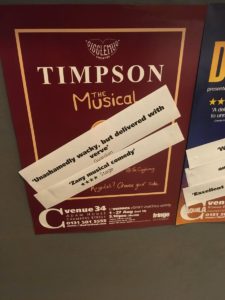 audiences and theatre critics alike. Timpson the Musical, a rollicking roller coaster of high energy musical comedy theatre, with an unapologetically quirky take on Shakespear's Romeo & Juliet, was staged by the super talented Gigglemug Theatre Company and sponsored by…. yes, Timpson.
The show was based on the Bard's original premise of two star-crossed lovers from ferociously feuding families – rebranded the Montashoes and Keypulets and fast forwarded to Victorian England. The show charts the entrepreneurial ambitions of young  Monty Montashoe and Keeleigh Keypulet as they strive to break free of their families' prejudices and make their fortune. Yes, it was daft, yes it was zany, but it totally won over theatre goers at the world-famous fringe arts event that runs alongside the Edinburgh Festival every night in August for its sheer zest.
Better still, this loopy left field production grabbed the nation's best theatre critics by the very scruff of their Timpson aprons with their unabashed verve and vivacity to make it into the top Fringe shows listings of none other than The Stage and The Guardian. The show bagged an award from The Stage – the UK's premier arts industry publication – and was also nominated for a prestigious Broadway World UK award.
We are enormously proud to have supported such a brilliantly talented, hard-working cast and crew who, quite literally, threw themselves into the production. Nobody who saw the show will ever forget it and we are delighted Timpson the Musical received the praise and plaudits of some of the best reviewers in showbiz.
"Bonkers", "barmy", "witty and hilarious" "energetic, creative and completely ridiculous" were essentially the prevailing thoughts of those who went to see the show. We agree… it was brilliantly bonkers and we loved it too!