Random Acts Of Kindness
A new focus on rewarding kindness as we enter an even kinder more caring year
Colleagues from all across the Timpson Group have embraced the Random Act of Kindness scheme with such exceptional care and enthusiasm, we have decided to bring your kindness and compassion into even sharper focus in 2020.
We know from your stories uploaded to Barney's Dashboard that people from all walks of life – whether they be customers or simply strangers in the street – often find themselves in a right pickle or predicament and sometimes sadly, a state of tearful distress. We are extremely proud to have colleagues working in the business who truly, genuinely care for people who by fate or misfortune find themselves at the wrong end of a situation.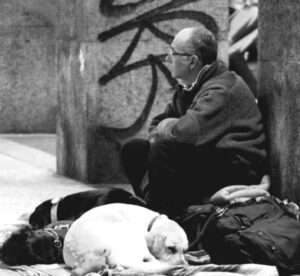 Monthly Awards
So we have decided to major on kindness by devoting a monthly award for five of the kindness random acts each month.
The five monthly awards, each with a £50 prize attached, will completely replace the Good to Great 'How I Amazed My Customer' scheme, which has now been removed from Barney's Dashboard. In addition, all the Group's Area Managers will reward colleagues on their Area weekly with prizes announced in their respective Area newsletter. 
James and Janet have read all of your submissions and are constantly overwhelmed by how far back you will bend to help someone out of a fix or simply, and just as importantly, offer a listening ear and a shoulder to cry on. Honestly, some of the stories we read are heartbreaking, but your response is so often heartwarming. From offering homeless man shoes and walking to work in just socks to weeping with a mother grieving for the loss of her child to rescuing a toddler locked in a car or buying a hot cup of coffee for an impoverished street sleeper, your random acts of kindness restores faith in humanity day in day out. 
So please continue to bring kindness into your work every single day and let James know what you've done to help someone out in a small but meaningful way.
We look forward to you making 2020 the Timpson Group's kindest year yet.
Janet Leighton
Director of Happiness
How to enter
Simply go on Barney's Dashboard and click RAK tile and use the story page. Your random act will be read by James and Director of Happiness, Janet Leighton, who will reward five winners with £50 each, every month.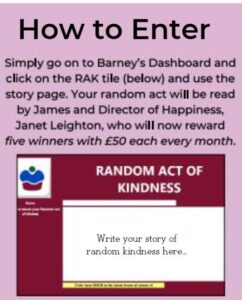 Aiden's Story
Aiden brings a customer to tears with well-timed, well-placed rivet
"Today a gentleman came in with a body brace belonging to his daughter. The rivet had broken on it and I could see how important it was to him and he mentioned he can't get a hospital appointment for her until after Christmas. This made me determined to sort something for him, and with the shape of the brace it wasn't easy, but I managed to put a new rivet into it. 
He asked how much it was and of course, I said because it was so important it was free of charge. The customer was so pleased he burst into tears, which made me well up. Being a dad I know how important these things can be and I was delighted I was able to help him and his family out."
Aiden Martin
Timpson 2133 Kendal
Morrisons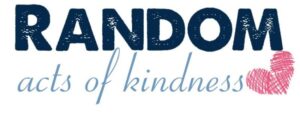 Thank you also to all of these kind colleagues!
Angela Hay – Thornton Cleveleys M                                     Leanne – Lincoln Waitrose J
Mark Merritt – Blandford Forum Tesco                               Mark Greenway – Blackwood
Michelle Burns – Stockton Max                                               Alexander Eccles – Rawtenstall Asda M
Hal Osborne – Crystal Peaks                                                    Harry Sharp – Sidcup Pod
Aaron Weinowski – Manchester Halle                                A Howard – East Prescott Road SA Pod
Roy Cross – Redditch Tesco                                                       Dan Turnbull – Tynemouth Morrisons
Catherine McNamara – Southport                                       Sharon Hallam – Norwich Tesco J
Maria Davis – Hastings SA                                                          Sean Perry – Longridge SA
David Allen – Sefton Park Asda Pod                                      Petrisor Craciunoiu – Thurrock
Anna – Sudbury TP                                                                           Christine Waterfield – Wolverhampton
Angie Harrison – Bishop Aukland Asda Pod                     David Owen – Watford MT
Laura Lister – Norwich Longwater SA                                 Stefan Luke – Inverness Tesco
Pamela Gourley – Sterling Dry Cleaning Hub                   Sam Wood – Reading Friar St
Liam Vickers – Stockton                                                                Rob Cremor – Macclesfield Tesco Pod
Stephen Elliot – Sandiacre J                                                         Aileen Copland – Straiton Sainsbury J