Timpson Key and Locker
Our dedicated Timpson Key and Locker management team can manage all your locker requirements. Our experts take care of the whole process, from locker supply and installation to ongoing management and maintenance. We give you peace of mind so you can get on with your job while we take care of replacing lost keys and repairing or replacing sticky locks or damaged doors.
Our complete service includes:
Designing the right solution for your locker room installation
Installation
Recording individual locker codes
Repairing broken doors and locks
Replacement keys from the codes on our secure database.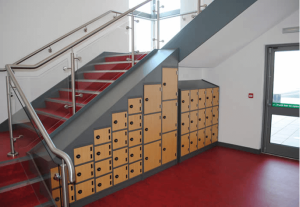 Timpson Key and Locker provides a fast and efficient service on replacement locker keys. We record every individual locker code on our secure database. When a new key is needed, simply send us the door number and we will rapidly identify and dispatch the correct key.
A well-maintained workplace, school or sports locker room speaks volumes about the high regard an organisation has for its users and their possessions. It creates a positive influence on staff and team morale and significantly reduces the threat of damage or theft.
Our maintenance contract includes:
Repair or replacement of damaged locker doors
Re-hang or relocate reusable locker doors
Replacement of broken locker cam locks
Provision of new plastic face plates and numbers.
As a part of the Timpson Group, the UK's largest key-cutters, we benefit from Timpson's buying power to keep prices competitive, and we proudly offer the same unbeatable levels of customer service excellence synonymous with the Timpson brand.
Timpson Key and Locker Solutions will be pleased to provide you with a full suite of tailored services for your individual locker and locker room needs. These include:
Free site survey
CAD designed locker room layout
Delivery and installation on your specified date
Key management system service.
We have a wide range of lockers to suit all sectors, spaces and budgets. provide a service for most key-operated equipment and security keys for commercial premises. To contact a member of the Locker Team click here.