Congratulations to our wonderful colleague Akeem Dewar in our Timpson branch in Streatham Tesco. Akeem won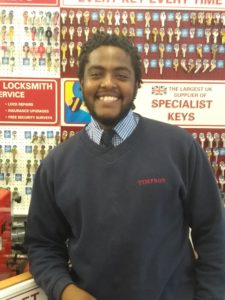 himself a £50 award from his Regional Training Manager, Ray Toms, after Ray received this heartening compliment on a great example of customer service.
Akeem's customer wrote: "I had some outstanding customer service from your colleague Akeem yesterday evening. On coming home, my key broke off in our Yale lock on the front door. In desperation, I rang your store in Streatham Tesco expecting that the most I would receive is some advice. I asked whether he could help get the broken piece of key from the lock. He told me to bring it down and he'd try his best. Off I trotted, not expecting much.
"When I arrived, he was polite and friendly. He took the lock and went to work and after only a short time he managed to get the broken piece out, even though it was very deep. The charge? No charge!
"Akeem had just saved me hundreds on a locksmith and new lock. He then went about cutting a couple of new keys for the lock, which he did quickly and with good humour. I've got to say, this is one of the best examples of customer service I've experienced in a long time and certainly one that blasted all expectations wide open. This man is a credit to your organisation and has won it a vocal advocate."
Well done Akeem for proving once again that our customer service is indeed a cut above the rest.