Johnsons
The Johnsons name has been synonymous with dry cleaning and laundry expertise for over 200 years. With over 200 stores throughout the UK, many convenient drive-thru locations, Johnsons offers a professional dry cleaning service combined with expert advice on fabrics and textiles and first-class customer care.
Johnsons is the only dry cleaners in the UK using a non-toxic cleaning process. All our stores use GreenEarth®, a product that delivers excellent cleaning results without damaging the environment. Our experienced branch colleagues are expertly trained to advise customers on a wide variety of stain treatments for various fabrics and finishes and will be happy to tell you more about the proven cleaning power of GreenEarth®.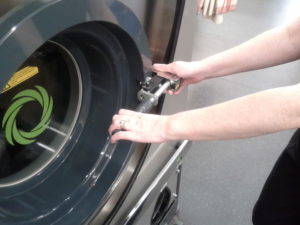 Most items are cleaned in-store and available for collection within 24 hours. Items requiring specialist treatment, repairs or restoration are sent to our Excellence Centre in Rugby. We have our own fleet of dedicated logistics managers all of whom drive vans fitted with sophisticated vehicle tracking technology.
Our services include:
• Dry cleaning and laundry
• Duvets, pillows and mattress toppers
• Bridalwear
• Suedes and leathers including shoes, boots and handbags
• Repairs and restoration.
Our 24,000 square feet Excellence Centre in Rugby has been developed to meet the growing demand for specialist cleaning and restoration services. Our textile technicians have unparalleled levels of expertise. We have extensive experience in combining the most advanced cleaning technology available with more traditional methods to care for specific textiles, such as wedding dresses, sequined or embellished formal wear. You can rest assured the care of your precious item is safe in our hands. We also specialise in duvets and mattress toppers, sheepskin and all manner of suede & leather items, from handbags to motorcycle leathers.
All items are scanned in and out of our stores and into and back out of our specialist Excellence Centre using a sophisticated tracking system. Items are tracked at every stage of the process and then scanned back into the original dispatch branch. The system will automatically let you know by text message that your item is back in-store and ready for collection.
Your nearest Johnsons dry cleaning store can be found here.