Snappy Snaps
Snappy Snaps is the UK's fourth largest photo service chain predominantly based in the South of England with 115 franchise stores and 9 company-owned stores.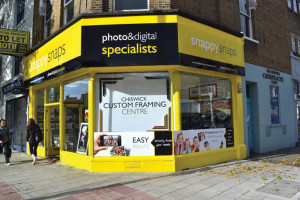 Timpson bought the Snappy Snaps franchise in 2011. We have a strong affinity with our Snappy Snaps franchisees, all of whom aim to deliver the same customer service excellence you find in our other High Street and supermarket brands.
Snappy Snaps stores offer the complete range of digital and analogue developing and printing services and provide a huge range of options to make the most of your photos, including enlargements, reprints, photo restoration and processing slides.
All stores provide a range of other photo and imaging services such as scanning photos onto CD and prints direct from digital files and cameras onto a variety of materials and merchandise. From mugs, T-shirts and cushions to eye-catching large format wall art, Snappy Snaps can create unique personalised gifts to suit all budgets and interior spaces.
Snappy Snaps photo professionals check every print for quality standards, with every image treated with the care and attention your precious photo memories deserve. This attention to detail and professionalism has earned Snappy Snaps the amateur photographer 'High Street Lab of the Year' award on numerous occasions.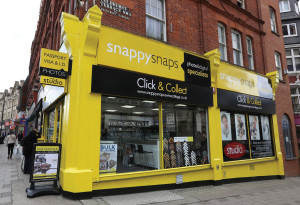 Thanks to the outstanding professionalism of our colleagues, Snappy Snaps is the photo retailer of choice for amateur and professional photographers alike.
All stores are equipped with the latest user-friendly technology, backed by in-store quality control checks and supported by our state-of-the-art technical excellence centre in Cheshire to ensure you get quality photos every time.
Whatever your photographic needs, from simple holiday snaps to damaged photo restoration, or production of exhibition quality black & white photography and framing to large format promotional materials, our Snappy Snaps colleagues will be pleased to advise you on the options available to create compelling, lasting images.
Locate your nearest Snappy Snaps store here.