At Timpson, we believe in offering everybody the opportunity to experience the world of work. Whilst we can't employ everyone who applies for a job, we will try our very best to offer you a one or two-week structured work experience placement. You will gain valuable experience in several areas, which will better prepare you for future employment. Once your placement comes to an end, you will also receive a certificate of completion outlining the skills you have learned. Why not give it a go?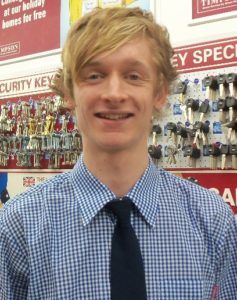 Our hours of business are usually 9 a.m. – 5 p.m. and we also open at weekends.
Whether you are a full-time student in school or college, leaving military service or simply considering a change of career, we would love to hear from you. Please note that the Timpson work experience programme is not a guarantee of a job and is only intended to be a taster, offering an insight into working for the UK's most successful High Street service retailer.
We have a small number of branches in each area that offer work experience.
To apply for work experience with Timpson, Max Spielmann, Johnsons or The Watch Lab, please fill in the form below.