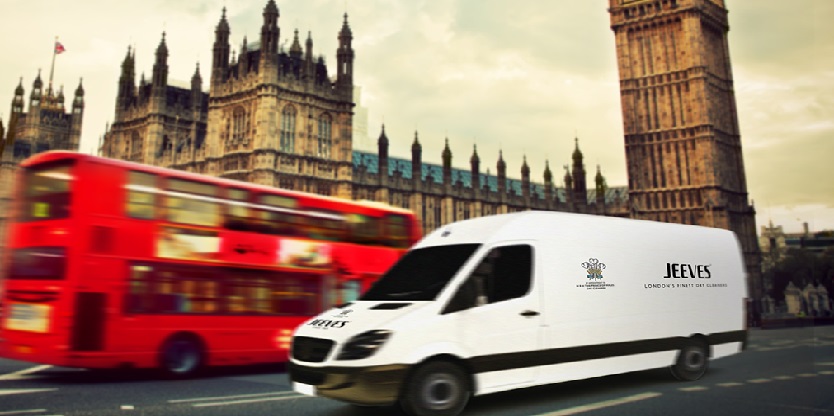 Every year the homeless charity Crisis UK organises a Crisis at Christmas event to offer food, shelter, comfort and friendship to those living rough on the streets of the capital over the festive period. This year, Crisis extended a welcome to around 4,000 homeless guests into nine crisis centres across London.
The charity contacted the Timpson Group back in early November to ask if Jeeves, which is part of the Timpson Group, might be willing to help them provide clean blankets for the rough sleepers who would be offered temporary shelter at its centres between 23rd and 30th December. We were delighted to help and the wheels were set in motion at the Jeeves specialist dry cleaning centre in Tottenham.
Every single item was checked in advance for evidence of mould, rips and heavy stains by a volunteer Scout group with any failed blankets being discarded.
Just shy of 2,000 blankets were collected by our drivers and brought to the Tottenham Excellence Centre where they were washed, dried, folded and re-packed before delivery back to the Dagenham warehouse.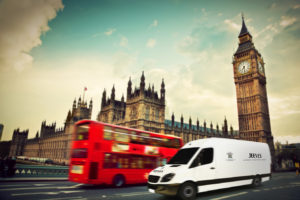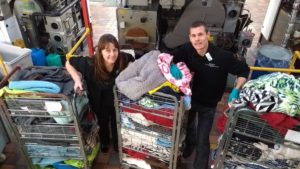 Crisis UK's Dagenham warehouse manager, Chris Beer, who runs the Crisis at Christmas campaign said: "To be able to send these blankets out freshly laundered made such a massive difference to the sleeping situations of our guests, many of whom are long term rough sleepers."
The charity's work with London's rough sleepers, many of whom have significant health and wellbeing, issues is extraordinary and a much anticipated feature of Christmas for many of the capital's long-term homeless community who have little or no-one to celebrate Christmas with each year.
Chris added: "Teams of advisors were helping with everything from housing to immigration issues. We set up four  dental units and new this year was the provision of dentures for our guests. Eye care teams where issuing free prescription glasses. There was some wonderful art being created, poetry and creative writing took place and was performed, films were watched in our nine cinemas, one of which was a bespoke cinema built especially for the centre."
Football enthusiasts were treated by London clubs Arsenal, Millwall and West Ham which helped provide training sessions for the East London Day Centre's guests. Arsenal FC once again hosted a football tournament at its indoor facility at the Emirates stadium at which Crisis' East London Day Centre triumphed. In total, 37,000 meals were served over the Christmas period, 644 healthcare appointments were attended, 312 eye tests and 359 footcare appointments took place, 148 physiotherapy sessions and 286 massages were freely offered to rough sleepers.
Dignity and Warmth
"Thank you so much for being part of the team that helped to make this happen. The bedding you cleaned for us was perfect and made such a difference, giving dignity as well as warmth to the guests in our centres, said Chris."
Following the charity's massive operation to help 4,000 homeless people, hundreds of towels that were returned from its nine centres to the Crisis warehouse needed laundering. As the charity doesn't currently have a facility for this we took in 15 large cages to wash.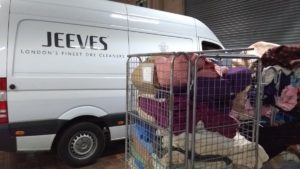 Without our help Crisis UK would sadly have had to dispose of them if they were unable to be be professionally laundered. We were happy to help a fantastic organisation doing such great work for a really significant number of disadvantaged and very vulnerable people. Heartfelt thanks to all our wonderful colleagues at Jeeves' Tottenham Excellence Centre and our drivers for all their efforts. What a magnificent bunch.